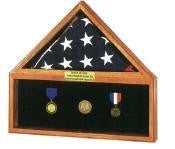 Flag Medal Display Case combo with Oak/Cherry & 3'x5' flag
Flag Medal Display Case combo  
This beautifully crafted flag and medal display case sold by FlagsConnections.com is an essential item for military or paramilitary personnel's and their families. The case is primarily used for displaying flags and medals and can either be kept on a pedestal or wall-mounted using a special bracket. You can also simply hang-up the medal and flag display case on the wall. This medal and flag holder is ideal for gifting purposes, especially if someone you love has just joined the services or is about to retire.
The flag and medal shadowbox is made entirely in the USA by veterans of this craft. Suggestions by veterans have been taken into consideration while designing the case. The military medal and flag shadowbox is made from three types of woods which includes walnut, cherry and oak and is available in the natural shades of these woods.
The upper triangular portion of this flag and medal display case can house government issued 3X5 flag (the ceremonial flag) or the 5x9.5 flag (burial flag). As both these flags are of different dimensions when folded, the display cases too come in different sizes. The flags however need to be folded properly according to precise instructions provided by the military. You can also learn to fold the flag properly by clicking here. The lower portion of the military medal and flag shadowbox is used for displaying the medals awarded to the veteran. The velvet background in the medal display portion comes in four colors viz – red, blue, green and black. The glass on the medal display case comes with the national emblem of Eagle. If you wish, we can place a plain glass on this portion sans the eagle emblem.
You can further customize this medal and flag holder by ordering a brass plate with black engravings. There is an option to place 1 to 4 lines on this brass plate. The brass plate can be used for writing details of the veteran or remembrance messages. You however will have to provide us with the details while placing the order as it is engraved on the brass metal plate.
The flag and medal display case is not only ideal for individual purchases but also is most suited for bulk purchases by organization. Orders for more than 5 flag and medal display cases will be given attractive discounts. We ship orders to US and Canada within a day.  
Barcode: 659821178056