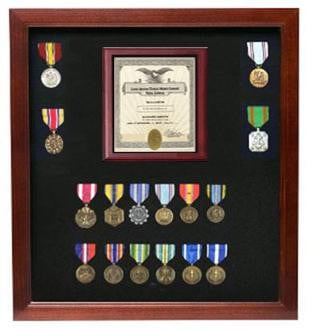 Medal and Document Case American Flag Shadow Box
$175.95

$175.95

Save $105
---
---
Deluxe Combo Awards / Flag Shadow Box
Military Awards / Certificate Shadow Box
Combination flag shadow box.
Combination Awards and Flag Shadow Box

This is our finest quality case, brought to you at a discounted price. Why display your family heirlooms in a lesser quality case, when you can enjoy this furniture-grade flag and document case for less money than would be spent on the cheap imitations. This case is the same as our Premium USA-Made Solid wood Flag And Document Case, but the wood has been finished with a rich cherry stain.
Display your flag with this elegant flag and document case made from solid oak and 100% made in USA.
Along with your case you will also be able to securely display a 8.5 inch x 11 inch document in the document holder. It has a museum quality plexiglass viewing pane  and the back board is covered in rich, luxurious Back felt.
There is plenty of room, in this case, to hang medals and other memorabilia.
Dimensions: 25 inches x 23 inches
Barcode: 659821196128