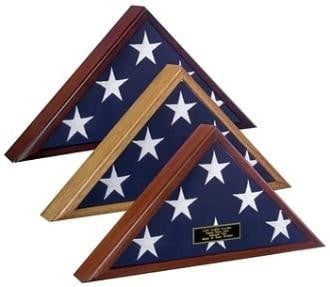 Spartacraft Veteran Flag Display Case - Cherry.
Sparta craft Veteran Flag Display Case Cherry
Will Hold Burial Flag
For 5'x 9.5' Flag (Measure your flag before ordering!)
Available in Heirloom Walnut, Cherry or Oak Finish
Glass Front
Removeable Back Panel With Turn Button Closures
Wall Mountable With Hardware Included
Inside Dimensions: 22 1/8" W x 11" H x 2 5/8" D
Outside Dimensions: 25 1/2" W x 12 1/2" H x 3 1/4" D
Made In America
Measure your flag first to ensure you are ordering the correct size flag case!
The Sparta Craft Veteran Flag Display Case in Cherry finish is designed to hold a burial flag measuring 5'x 9.5'. Before ordering, it's important to measure your flag to ensure that it fits inside the case properly. The case features a glass front and removable back panel with turn button closures, making it easy to access the flag when needed. It can be wall-mounted with the included hardware, and its inside dimensions are 23 1/8" W x 11" H x 2 5/8" D, while its outside dimensions are 25 1/2" W x 12 1/2" H x 3 1/4" D. This case is made in America and is also available in Chery wood and Oak finishes.
Barcode: